Posted by Bill Arnold
On February 6, 2016
0 Comments
Magic Flute, Mozart, music
Brother Mozart and The Magic Flute.
Most Masons are aware that Wolfgang Amadeus Mozart was indeed a Freemason and Brother Mozart's, The Magic Flute is an homage to Freemasonry.
The specifics of his membership are not as well known and the influence Freemasonry had on him is also less known.
Wikipedia says:
For the last seven years of his life Wolfgang Amadeus Mozart was a Mason. The Masonic order played an important role in his life and work. Mozart was admitted as an apprentice to the Viennese Masonic lodge called "Zur Wohltätigkeit" ("Beneficence") on 14 December 1784. He was promoted to journeyman Mason on 7 January 1785, and became a master Mason "shortly thereafter".
Mozart frequently  attended meetings at another lodge, called "Zur wahren Eintracht" or True Concord. According to Otto Erich Deutsch, this lodge was "the largest and most aristocratic in Vienna.
Being the premier musician in Vienna however, Mozart was welcome in all the lodges.
His lodge "Zur Wohltätigkeit" was consolidated with two others in December of 1785, under the Imperial reform of Masonry "The Masonic Decree" of  December 11th 1785, and thus Mozart came to belong to the lodge called Zur Neugekrönten Hoffnung or "New Crowned Hope".
At least as far as surviving Masonic documents can tell us, Mozart was well regarded by his fellow Masons. Many of his friends were Masons.
Although Brother Mozart and The Magic Flute or Die Zauberflöte is and opera and not an instrumental piece, one would play in a Lodge or ritual setting, any Freemason seeing The Magic Flute would immediately recognize the Masonic symbolism and tone.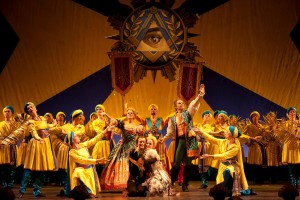 If you ever get the chance to see Brother Mozart's opera The Magic Flute, take it. If your in the New York City area around Christmas time it is often preformed at the Metropolitan Opera.