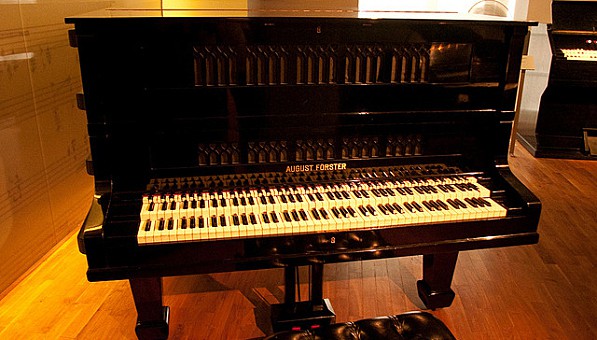 Posted by Bill Arnold
On February 1, 2016
0 Comments
quarter-tone piano
Recently reported that the prestigious Sibelius Academy, Helsinki Finland has acquired a new Quartertone Piano. So what is this quarter-tone piano and who is Sibelius anyway?
August Förster is a piano manufacturing company (also rendered "Foerster," occasionally "Forster," officially "August Förster GmbH Kunsthandwerklicher Flügel-und-Pianobau") that currently has a staff of 40 employees and produces around 120 grand pianos and 150 uprights per year.
The Quartertone Piano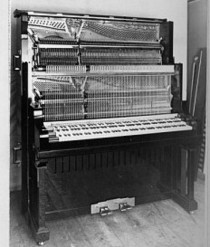 In the fall of 1928 AUGUST FÖRSTER surprised the piano experts at the Leipzig Tradeshow when he exhibited the first quartertone piano. It was constructed for the composer Mr. Ivan Wyschnegradsky who lived in Paris. The beautiful cabinet had some similarity with an organ. The construction consisted of two sound mechanisms which were each made of: posts, soundboard, iron frame and strings. Similar to the grand piano one of the sound mechanisms was tuned a quarter tone higher.
The Sibelius Academy:
The Sibelius Academy is a prestigious, university-level music school in Helsinki, Finland. It was founded in 1882 as the "Helsinki Music Institute" and renamed in 1939 to celebrate acclaimed Finnish composer Jean Sibelius.
Recently, the Academy was able to acquire a very unique instrument — a quartertone piano, which provides an octave of 24 pitches rather than the traditional (at least to Western ears) 12.
The idea began to germinate in a Sibelius Academy dorm about 10 years ago, as pianist Elisa Järvi and composer Sampo Haapamäki began discussing the possibility of developing a new, more ergonomic quarter-tone piano. A few years ago, a one-octave version was created by piano technician Matti Kyllönen, and in 2014, a full-scale prototype was built by carpenter Osto Haapamäki.
The quartertone scale has a very modern-sounding quality to it, but has actually been around for over 100 years. While he wasn't the first to write with the this scale, Czech composer Alois Hába was one of the first to make it an integral component of his style. His first quarter-tone work was a suite for string orchestra (1917), and he went on to compose a number of quarter-tone piano works, including his "Sonata for quarter-tone piano" (1946-47).
The sound of the quarter-tone scale has become increasingly popular in the 21st century, and Elisa Järvi hopes to see that trend continue. "In the future," she says, "I'm hoping that I could issue new solo pieces for this instrument."
From the Classicalmpr.org website
As for who is Jean Sebilius…Jean Sibelius, born Johan Julius Christian Sibelius (8 December 1865 – 20 September 1957), was a Finnish composer and violinist of the late Romantic and early-modern periods. He is widely recognized as his country's greatest composer and, through his music, is often credited with having helped Finland to develop a national identity during its struggle for independence from Russia. 
And his connection to Freemasonry…from masonicmusic.org
The most celebrated member of the class of 27 which was raised in Suomi Lodge No. 1, Finland, on August 18, 1922, when it was warranted by the Grand Lodge of New York, was Johan Julius Christian Sibelius., better known to the world as Jean Sibelius, who was 56 then. He was initiated, passed and raised from 10 a.m. to 7 p.m. with an intermission of an hour for lunch.
Sibelius, who had been a noted musician more than 25 years, was appointed Grand Organist for the new Grand Lodge, a post he held throughout his life. He became interested in improvising music for the regular work and was persuaded to compose specific selections adapted for use in the lodge room. This culminated in the ritual music known as"Musique Religieuse," opus 113. Initially there were nine pieces with ultimately became fully orchestrated.
His mother Lodge, Suomi Lodge No. 1, was the first to hear this remarkable music, on January 5, 1927. It remained in manuscript form written in Finnish and Swedish until 1935, when an inscribed, bound copy of this great work was presented to the Grand Lodge of New Your by Sibelius. It was published for Mason use that year by Grand Lodge with an English test by RW Marshall Kernochan, a past Grand Trustee of New York.
If you enjoy classical music and are intrigued by any connections to Freemasonry it's worth while to listen to Jean Sibelius' Finlandia, beautifully composed! You can find some of the composition on this site Jean Sibelius' Finlandia