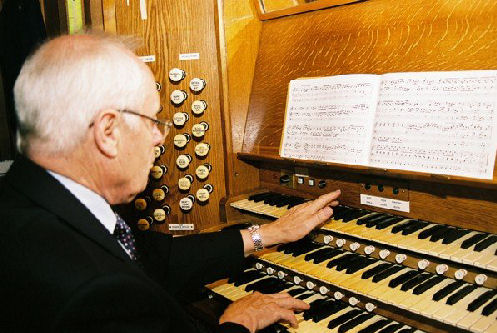 Posted by Bill Arnold
On January 21, 2016
0 Comments
Lodge organists
Interesting article from The Lodge Organist Internet lodge:
Masonic Music
A Series of Articles by
W.Bro Naunton Liles P.A.G.D.C.
Organist 1999 – 2005
The purpose of music in Freemasonry is to add dignity, to provide a structure and atmosphere to the ceremony and to help everyone take part by singing the words of Odes.
W.Bro Naunton Liles has written a series of articles to assist those involved in this important aspect of Masonic meetings.
We trust you find them interesting and useful.
About the author
Naunton Liles has been a Masonic organist for over 50 years and is an active organist in several orders.
He is currently Grand Organist of Mark Master Masons and Great Organist in KT.
He has played at more than 100 Masonic centres in the UK and Europe.
You can find the original piece by clicking here
---
MLO Editorial:
One comment I thought was plainly from an Organist would be in the Odd and awful Organs paper. Although the Brother references the electronic and computerized version and says to avoid them, many Lodges have little choice is they desire music during the rituals. Frankly I'd go for the electronic or recorded music over no music, especially during degrees any day.
As Lodges go without and entering, passing and raising Masons, without music it looses something and anything is better than nothing with a bit of practice one can use something like MLO to add that music back into the ritual at their own Lodge and make it sound like there was a living organist sitting at the organ. The lodge organist, that often goes unfilled at many a Lodge may never be really replaced and a live musician is always preferable. But when in a pinch or your organ is on the fritz, Mylodgeoranist.com can really come in handy.
That being said it's not the best to have a clunky system that is hard to control or is unorganized. In setting up and testing MLO we have endeavored to make it easy to have a brother with just a few minutes of instruction play beautifully and make the ceremony memorable to the men being entered, passed or raised.