Posted by Bill Arnold
On January 21, 2016
2 Comments
Freestone, music, Rock
Freestone, Maybe not for Lodge meetings…but
Although not organ music but worthy of note – Freestone. The members of the Dutch Rock band Freestone would not recommend you play their music during a Lodge meeting I am sure they would be the first to tell you that all Freemasons should listen to the music they produced. The album titled "The Temple of Humanity" has 12 tracks and all are excellent.
From the bands website:
Freestone
The band Freestone produces concept albums inspired by mystical traditions. The name comes from 'Freestone mason', used in Freemasonry. The first album is called The Temple of Humanity and is inspired by this system of morality.
Music and lyrics refer to the symbolism and rituals of Freemasonry. For artwork several artists of whom a few are Freemasons have contributed a (Masonic) work of art.
Freestone wants to produce popular music with a different sound. Pop and rock music of which the content refers to different themes commonly found in popmusic. By means of progressive pop music there is attention for mystical traditions, that can contribute to quality of live.
The Album Temple of Humanity made its debut in September 2009. Since then it has garnered wide acclaim from Freemasons and non Masons alike. An nice review and some musical samples are found on the review.
The Album and songs are available on iTunes and Amazon where you can buy individual tracks or the whole album on CD.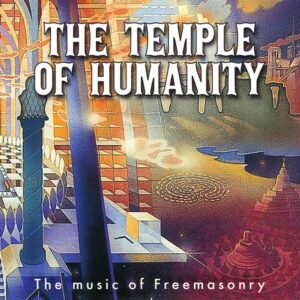 This album has been on my playlist in my car and home since 2010 and I listen to it often. The two best tracks in my opinion are Turn the Key and Children of the Widow. If you have some younger Masons in your Lodge be sure and download a copy and let them listen to it and I am sure they will add it to their playlists as well.